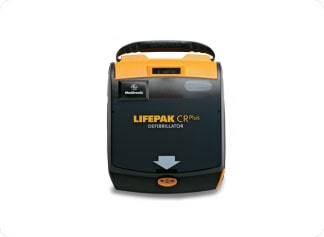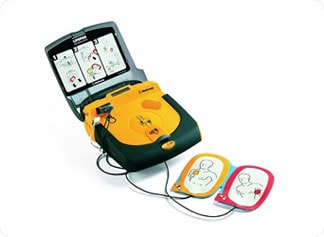 LIFEPAK CR plus AED
$1795
SKU: lifepak-cr-plus
Features:
8-Year Warranty
Training DVD
Soft Carry Case
CHARGE-PAK Battery
Ambu® Brand AED Rescue Kit Owner's Manual
Quick-Start Guide
Two (2) Sets of Electrode Pads
Details:
The LIFEPAK CR® Plus AED is fully automatic, with a simple two-step process that gives the first person to respond to a SCA victim the confidence they need to help save a life. A responder only needs to:
Turn on the device
Apply the QUIK-PAK™ electrode pads to the victim
The fully automatic model of the LIFEPAK CR Plus AED is designed to deliver a shock only if it determines a heart needs it. No one even needs to press a shock button. The LIFEPAK CR Plus AED is also easy to own and maintain. Synchronized replacement of the electrodes and battery CHARGE-PAK™ will keep your maintenance burden at a minimum. And weekly and monthly self-tests—plus a visible readiness display with four indicators—let you know it's ready to do its job.
Check out this video for an in-depth look at the Life Pak CR Plus:
Effective in maximizing the chance for survival
Although not everyone can be saved from sudden cardiac arrest, studies show that early defibrillation can dramatically improve survival rates. The LIFEPAK CR Plus AED has the capability to escalate to an industry-leading 360 joules when necessary, providing the extra power that may be needed for hard-to-defibrillate victims. Defibrillation and CPR prompts are consistent with AHA guidelines. And because the LIFEPAK CR Plus AED uses the same electrodes as other LIFEPAK devices—the choice of more EMS units worldwide than any other brand—critical time can be saved transferring victims to professional medical care.
The support you need
Put the right training resources and program management support for the LIFEPAK CR Plus AED in place for you and your employees. Physio-Control offers resources like our AED Training System and our interactive AED Challenge refresher training. Our Heart Safe Solutions are designed to give you a flexible and comprehensive AED program that is right for your budget. AED users should be trained in CPR and use of the AED. Please consult your physician. LIFEPAK AEDs require a prescription.
Industry Leading Warranty
Physio-Control stands by the quality of their lifesaving products. Thy even offer an 8-year warranty on the LIFEPAK CR Plus AED, the longest in the industry.